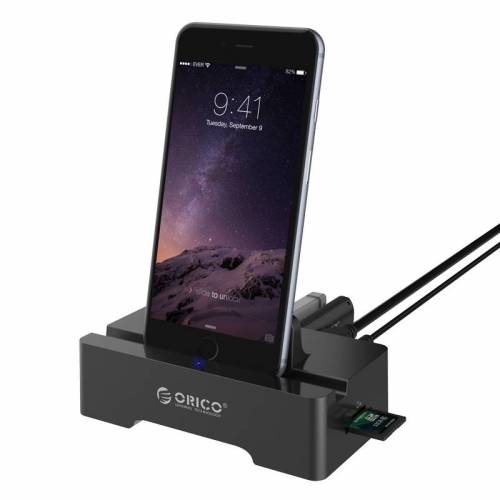 Tablet & Phone Docking Station
$ 31.00
---
ORICO 3 Port USB3.0 Docking Station for SD & Micro SD with 3.3 Ft (HSC3-TS)
USB Port3 SuperSpeed USB3.0 Ports
Charging Port1 Super Charger, 1 Universal Charging Port
ControllerVia-Labs VL812
Power Supply12V2.5A Power Adapter
Data Cable3.3 Ft. USB3.0 & USB2.0 OTG Cord
Card ReaderSD & Micro SD Card Supported
DriverDriver Not Required
Supported SystemWindows 8 / 7 / Vista / XP or Mac OS X 10.2 and above
Dimension 135 x 73 x 38mm
3 Ports USB expansive docking station, multi connection at once
3 ports USB3.0 with 2 charging ports, this offers massive expansion that provides 3 USB ports to connect as many USB devices as you desire. It supplies stable power for each port. Do you need any more reasons to buy this must-have life partner? We will make your life easy.
SuperSpeed USB3.0, full speed and data at once
ORICO SuperSpeed USB3.0 docking station built in with a 3rd-gen VL812 USB3.0 controller which provides an easy and reliable connection with a transfer speed of up to 5 Gbps,
10x greater than USB2.0 that allows users to add 3 USB3.0 ports for your computer in seconds, backwards compatible with USB2.0 and 1.1, bring full speed and data at once to you.
Stable but powerful, exclusive experience
3 USB3.0 ports can connect 3 devices simultaneously, it also has 2 charging ports, 1 x 5V1A universal charging port and 1 x 5V4A super charging port;
12V2.5A power adapter provides stable power supply, which enables reliable connectivity between your devices and host computer. It also supports to read TF / SD card and OTG.
Ergonomic design, Plug and Play
ORICO USB3.0 hub docking station with 2 charging ports, it is easy to use, no driver or application needed. Plug & Play installation, support hot-swapping. This is a very easy way to charge all your device or connected at once. You will never be worried about USB connection.
Widely compatible, safety guarantee
This USB3.0 docking station with surface, tablet or cell phone holder. It is compatible with most mainstream computer systems such as Windows and Mac OS. What is more, it is certified by CE, FCC and ROHS.