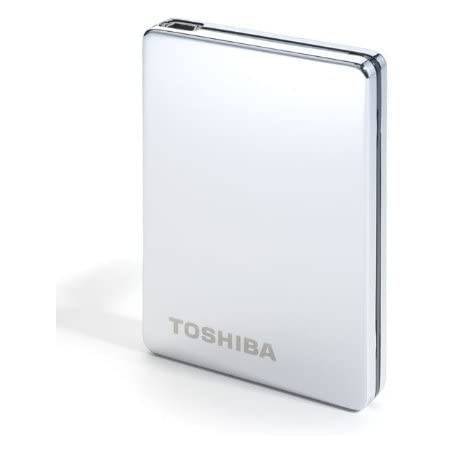 Toshiba External Silver Steel Hard Drive
$ 60.00
---
Toshiba PA4140E-1HA6 160GB 1.8-inch External Silver Steel Hard Drive
Product details:
USB Powered.
Finger proof, anti-scratch, stainless steel enclosure.
Pre Installed with award winning McAffee Internet Security (Trial Version).
Under 10cm in Length.
Single Cable power/data connection
Product description
The slick, modern and minimalist design of the ultra portable StorE Steel 1.8 inch external HDD is one of the most elegant products in its class. The stainless steel and unique UV coated, scratch resistant enclosure is further protected by a leather-effect pouch. Coming with a pre-loaded trial version of McAfee Internet Security 2009, it will also keep your data safe.Main Features:A stainless steel, anti-scratch and anti-fingermark enclosure for a new generation of solid and reliable hard disk drivesA slick…
Manufacturer's Description
StorE steel has a minimalist and elegant design that comes in three glossy metallic colours. StorE art brings personalisation to the market with a range of different colours and patterns.
As people are increasingly gathering data, photos, videos and music clips, they want to have access to their digital content from the different devices, such as TV sets, laptops, or HiFi systems that they are using. External hard disk drives are an ideal solution to achieving this.
With the new StorE steel and StorE art, Toshiba are again expanding their external hard disk drive family with devices that appeal to the style conscious customers – those who desire high quality, ease of use and a personalised design.
It is the minimalist and elegant design that makes the StorE steel unique. The casing is made up of a glossy, scratch and smudge resistant stainless steel design that is available in three different metallic colours: titanium, silver and gold. Customers can choose between a 1.8'' and a 2.5'' hard disk. The 1.8'' version measures 10.3 cm x 6.3 cm x 1.4 cm and offers a storage capacity up to 160 GB. The 2.5'' hard disk drive can store up to 500 GB of digital content. Measuring 12.7 cm x 7.8 cm x 1.3 cm it is small enough to fit easily into a laptop carry case. Furthermore the drives are very lightweight, despite their steel casing, and weigh only 120g and 190g respectively. Above all there is no need for an external power supply as StorE steel is powered via USB interface.
Box Contains
Hard drive
Pouch
USB y-cable
Quick Start Guide
User Manual
Warranty Leaflet