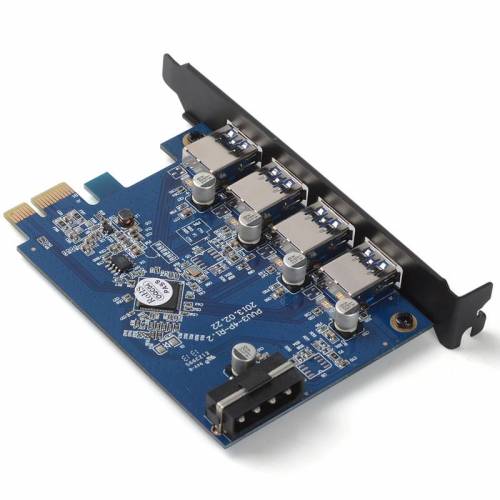 Extraordinary structure:
This is a PCI-Express card expanded 7* high-speed USB 3.0 interface, if you need to use several USB external products at the same time, this express card will be your best choice. It is made of 5 x external USB3.0 interface, 2 x USB 3.0 ports, and they are expanded by a 19pin connector on this express card.
Product Features:
Conforms to PCI-Express standard 2.0 version.
Conforms to Universal Serial Bus 3.0 standard.
USB 3.0 interface transfer rate could reach 5Gbps, downward compatible with USB 2.0/1.1.
It can be connected to 7pcs USB devices at the same time.
For the 19pin USB3.0 connector, you can buy our BR3220P-U3 to expand 2 x USB 3.0 interface to make full use of your vacant floppy space.
USB interface could offer a 5V2A power supply to an external device.
Big 4pin interface for optional power supply.
Supports Window2000/XP/VISTA/WIN7 and Linux.