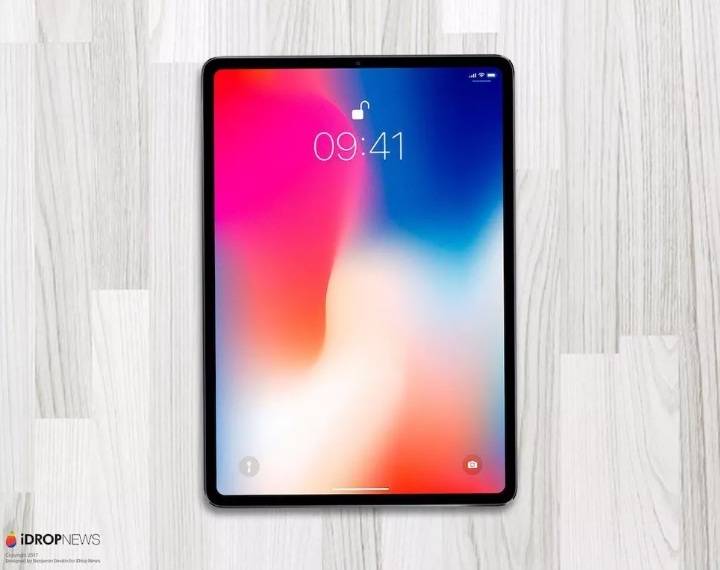 Next iPad and 2018 iPad Pro: All the rumors on specs
Growing buzz suggests new iPads before the end of the month.
We know Apple's having a party next week. And we suspect we may see a surprise guest or two.
The company's spring event, scheduled for March 27, will focus on education, according to the invitation circulated to media last week. What it says: "Join us to hear creative new ideas for teachers and students." What's been left unsaid: There's a chance we may see some new products — including new iPads. (Apple did not respond to our request for a comment.)
Of course, the iPad lineup got a fairly comprehensive makeover just last year. In March 2017, Apple replaced the iPad Air 2 with today's entry-level 9.7-inch iPad and discontinued the Mini 2. And in June, the 10.5-inch and 12.9-inch Pros were unveiled, leaving the diminutive iPad Mini 4, which received a minor upgrade, the sole representative of earlier generations.
Given that the current Pro models are less than a year old, it feels a bit too early for Apple to tinker with them. And yet a number of the features rumored to be coming soon, including Face ID, would fit more naturally on the pricier Pro models than the entry-level iPad or Mini. Still, if we're going to see new iPads at this event, it's more likely that we'll see a refreshed version of the $329 iPad or the Mini than a new, premium "iPad Pro X."
Of course, Apple hasn't officially confirmed that any iPad launch is imminent. All of this remains speculative, the rumor mill doing what it does. But read on for a rundown of what we've heard so far.
Confirmed: Apple event on March 27, 2018
Apple has announced that it will host an event at Lane Tech College Prep High School in Chicago on March 27. "Join us to hear new creative ideas for teachers and students," the invitation says. Apple's last education-themed event, held in January 2012, focused on the company's digital textbook initiative.
The invitation says exactly nothing about new iPads, however, or any other products for that matter. If they don't show up here, the next scheduled opportunity would be WWDC 2018, scheduled to kick off in San Jose on June 4.
Rumor: Two new models
In 2017, Apple registered two new iPads with the Eurasian Economic Commission, according to Consomac (via MacRumors). Registrations like this have often preceded new product announcements — and it's been almost exactly a year since the debut of the entry-level iPad and the iPad Mini 4's modest tweaking. Late last year, Bloomberg reported that a new version of the 10.5-inch model would likely not be ready for release until the second half of the year. Given all of this, we think a March announcement is more likely to feature a new version of the iPad and/or iPad Mini instead of new Pro models.
Rumor: Pencils for everyone!
CNET's Scott Stein has predicted that Apple could include Pencil support in lower-cost iPads to support art and other graphics-based work on iPads in schools, as well as a redesigned Pencil, with a more kid-friendly design and eraser functionality. Supply chain sources have said that Apple is developing a new version of its Pencil stylus and software, according to Bloomberg's Mark Gurman.
Rumor: Performance bumps
Barring any major new features for the iPad and/or iPad Mini, we're likely to see iterative upgrades in processor speed and memory. Bloomberg suggests that the next generation of iPads will have faster processors and GPUs.
Rumor: Pricing tweaks
The current iPad redefined entry-level for an Apple tablet. Today's 32GB Wi-Fi version typically starts at $329 (£339 or AU$469), though it was discounted to as low as $250 throughout the 2017 holiday shopping season. (The 4G LTE model starts at $459, £469 or AU$669.) Last year, DigiTimes reported that Apple was mulling over a second quarter release for an even less expensive 9.7-inch model, priced somewhere around $259.
Rumor: Face ID coming, probably later this year
When Apple debuted a handful of innovative features on the iPhone X last November, we immediately wondered which of them would migrate to the iPad lineup. Since then, Bloomberg has reported that the phone's facial recognition system, Face ID, may indeed find its way into future iPads. And analyst Ming-Chi Kuo, who has made many accurate predictions about forthcoming products, believes that Apple will add the TrueDepth camera array that powers Face ID to iPad Pro models in 2018, according to MacRumors.
Rumor: Bye-bye home button
Once Face ID comes to the iPad, it opens the door for Apple to eliminate the tablet's home button and Touch ID. And that, in turn, allows for some design optimizations including slimmer edges on the top and bottom of the device, echoing the aesthetic of the iPhone X. Again, this upgrade is likely reserved for the Pro models looking to arrive later this year.
Rumor: Probably no OLED display
One iPhone X feature that is unlikely to pop up in an iPad anytime in 2018 is an OLED display, according to Bloomberg. Not because Apple wouldn't like to use them. It's that suppliers simply don't yet have the bandwidth to produce them in the massive numbers required. And it's possible that Apple is focusing its OLED resources on the iPhone for now.
Rumor: Probably no wireless charging
Both the iPhone and Apple Watch have wireless charging, and the feature is rumored to be coming to the AirPods as well. But don't look for it on new iPads anytime soon. So long as they keep their metal-backed design, wireless charging would be an unlikely upgrade.
Rumor: Bye-bye iPad Mini
Speaking of iPhones: With September's iPhone line rumored to include larger versions of the iPhone X, including a 6.5-inch model, it feels like the iPad Mini line just isn't long for this world. Apart from a minor component upgrade in June 2017, the current Mini 4, with its 7.9-inch screen, hasn't been updated since its introduction in 2015. But it's more expensive than the 9.7-inch iPad because Apple sells only a 128GB version. If the price of the 9.7-incher — new or old — drops any more, it's hard to envision how much demand remains for the Mini.
By Justin Jaffe
https://www.cnet.com/news/ipad-pro-and-ipad-2018-all-the-rumors-on-specs-price-release-date/