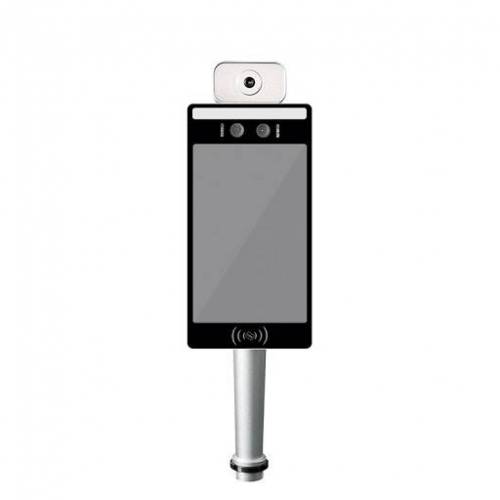 Face Recognition Terminal
---
Functions:
Face Capacity: 1,00,000
Max User: 1,00,000
Logs Capacity: 10,00,000
Accuracy: 99.27%
Living body detection: Support
Sensor: IR array Sensor
Stranger detection: Support
Recognition distance configuration: Support
UI interface configuration: Support
Remote update: Support
Deployment: Public network, LAN
General parameters:
Power: DC 12V/2A
Working temperature -10°C~50°C
Working humidity: 10%~90%
Power consumption: Running: Max. 15W
Dimension 272.5 *133±0.2mm*87.63±0.6mm
Display
Display screen: 8-inch IPS all-sight LCD touch screen
Resolution: 800 * 1280
Interfaces:
Relay output: 1-way (DOOR_NO, DOOR_COM, DOOR_NC)
Network interface: 1-way Ethernet (RJ45, 100M)
TTL serial port: Embedded with our card plate
Wi-Fi: Standard: IEEE 802.11b/g/n
Wiegand Output: Yes
Reset interface: Reset button
USB interface: 1-way Type-A
System parameters
Operating system: Linux

CPU: Dual-core ARM Cortex-a7@900MHz
Storage: 1GB RAM, 8GB ROM
Contact us for more Info:
Tech Support LB
Jdeidet El Metn, Behind The Base Playground.
00961 1 880553 – We Deliver!