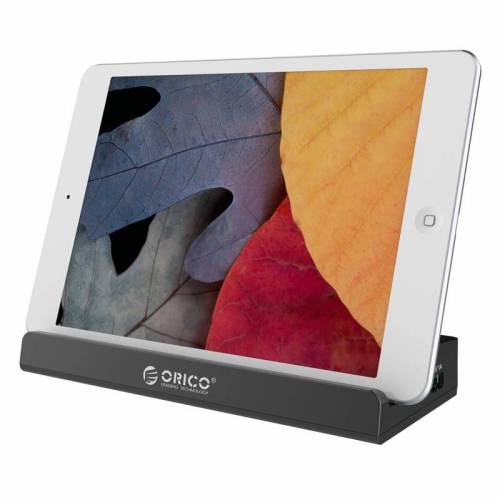 Desktop Media Dock for Surface & Tablet
$ 36.50
---
DESKTOP MEDIA DOCK FOR SURFACE AND TABLET SH4C2
ORICO 4-Port USB3.0 Universal Docking Station for Cellphone and Tablet with 3.3Ft/1M USB3.0 Cable – Black (SH4C2)
4 SuperSpeed USB3.0 ports
Transfer rate up to 5 Gbps
4 SuperSpeed USB3.0 ports provide an easy and reliable connection with a transfer speed of up to 5 Gbps, greatly improving work efficiency. Free to connect hard drives, bluetooth speakers, keyboards, mice and other kinds of equipments as required, plug and play.
5.1 sound channel output
Enjoy beautiful melody
Stunning 5.1 surround sound brings lossless quality voice for Surface / Win 8. Extended audio satisfies multi-tone usage requirements of tuners and couples in daily life.
Charging cradle of cellphones and tablets
Fully charge iPhone in 2 hours
Featuring intelligent current-transformation, compatibility and protection, SH4C2 can be used as charging cradle of cellphones and tablets, which is equipped with 2 USB charging ports able to detect and deliver ideal input current each time of up to 2.4A, and that iPhone is fully charged in 2 hours.
70°angle of elevation pedestal
Comfortable angle accords with ergonomics
With 70°angle of elevation conforming to ergonomics, SH4C2 presents your Surface, smartphone and tablet from a optimal perspective, which brings you a lot of fun and comfortable experience for work or entertainment.
Great craft beyond imagination
SH4C2 whose smooth chassis is made of high-intensity fireproof material and crafted rubber paint, perfectly matches your devices, an amazing accessory on your desk.
ORICO 4-Port USB3.0 Universal Docking Station for Cellphone and Tablet with 3.3Ft/1M USB3.0 Cable – Black (SH4C2)
Product Specification:

USB Port4 SuperSpeed USB3.0 Ports
Charging Port1 Super Charger, 1 Universal Charging Port
ControllerVia-Labs VL812
Power Supply12V2.5A Power Adapter
Data Cable3.3 Ft. / 1M USB3.0 Cord
StandSurface / Tablet / Phone Stand
DriverDriver Not Required
Supported SystemWindows XP, Vista, 7, 8, 8.1, 10, Mac OS and Linux
Dimension175 x 75 x 45mm