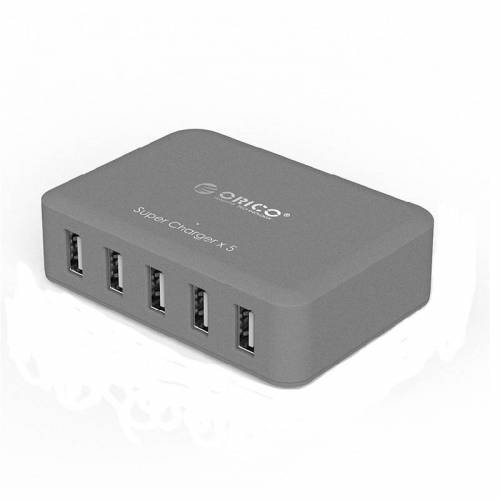 5 Ports Desktop Charger
$ 18.50
$ 10.00
---
ORICO 40W 5 Ports USB Super Charger is your ideal desktop power solution for home and office.
It features 5 Super charging ports, which will detect attached devices and self-adjusted to a right status. Avoiding any compatibility issue and supply reliable power for High Power Required iPad, tablets or Cell Phones from Apple, Samsung, Sony, HTC etc. Attach devices to Super Charging Ports when any Compatibility Issue happens.
With ORICO intelligent power-supply technology, each port intelligently identifies your device to deliver its fastest possible charge speed that could reach of up to 2.4A per port or 8A overall; Saving you hours of time.
Compatible with Almost Any USB Devices
ORICO 5 port USB charger is optimized to charge nearly any USB device. Compatible with but not limited to iPad Air, iPad mini, iPhone 5S/6/6 Plus, iPod touch, Nexus 6, HTC One, LG G3, Lumia, Motorola Droid Turbo, Moto G and etc.
Compact Design and Well-organized
With its lightweight and compact design, this charger is grab and go ready, thus provides convenience for use.
Its neatly arranged ports causes less clutters, saves space efficiently.