Out
of Stock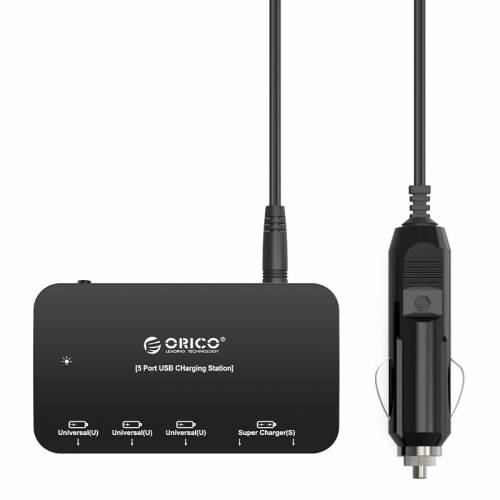 5 Port Smart USB Car Charger
$ 15.00
---
5 Port Smart USB Car Charger 36W 5V7.2A MPU-5S
ORICO 5 Port Smart USB Car Charger 36W 5V7.2A MPU-5S SERIES BLACK
36 Watt 5 Port Smart USB Car Charger with world's 1st smart charging technology powers all your devices on trip, anytime, anywhere
Product Features:
– Model:MPU-5S
– Chassis: High Strength fiber proof material
– 12V input only, not compatible with 24V cigarette lighter.
– 5 ports fast charging USB car charger compatible with iPad, iPhone, iPod, Smart phones, GPS, Tablets, and many other devices.
– Provides additional flexibility in charging multiple devices using USB interface, charges quick and it is handy, compact and slim for carrying of travelling.
– 3x5V1A Charging Port, 2x5V2.4A Enabled, 5 Charging Ports in total allow charging 4 device at the same time.
– Surge protector inside bring reliable power, charge 5 devices at 5V7.8A (39W) Max
AVAILABLE IN BLACK
Compatibility
– 5x Super Charging Ports will Detect Attached Devices and Self-Adjusted to Right Status, Avoid any Compatibility Issue and Supply Reliable Power.
– Compatibility with iPhone 5/5S/5C/4S/4, iPad 1/2/3/4/mini, iPod nano, iPod touch, Galaxy S3/S4/Note 2/Note 3, Samsung tablets, HTC/Blackberry/Sony/LG smart phones Tablets/MP3 player/PDA/GPS/Digital camera.
Multi-function car charger
Charging multi-digital simultaneously
MPU-5S comes with standard 12V cigarette lighter, whose output is up to 36W. Both phones and tablets can be charge by it. You needn't worry about the problem of insufficient power supply on business or travel. ORICO MPU-5S is your ideal solution.
Intelligent IC
It adopts intelligent IC, beyond the many brands of domestic and foreign. What's more, it also integrates into the new technology such as smart recognition and converter, intelligently compatible and fast charge, intelligent security mechanisms. Subverting the conventional digital charge mode, bringing you more efficient and safer charging experience.
Intelligent converters
Safety 0 damage
Its built-in a new quad-core Intelligent IC super charging solution, which breaks the traditional single-current charging mode. What's more, it can easily identify your device model and automatically match optimal current, realizing zero damaged charging security.
Intelligent fast charge
Automatically identify the phone current required
MPU-5S smart car charger (two Super Charger intelligent output interface) can automatically identify the phone input current required to adjust the speed of output current and reasonably match while saving 20% charging time than the original charger.
Intelligent recognition
Know your cell phone better
Automatically identifies load: When a digital product accesses, MPU-5S can automatically identify charging for digital products, intelligent and convenient; automatically identify uninstall: When digital products charging filled not removed, it can automatically identify start overcharge protection, and close the output to protect digital products.
Exquisite appearance
More on the grade
ORICO MPU-5S multi-port charger adopts an extremely delicate matte process, which can effectively prevent fingerprints and scratches. Small and exquisite, high-end and elegant.