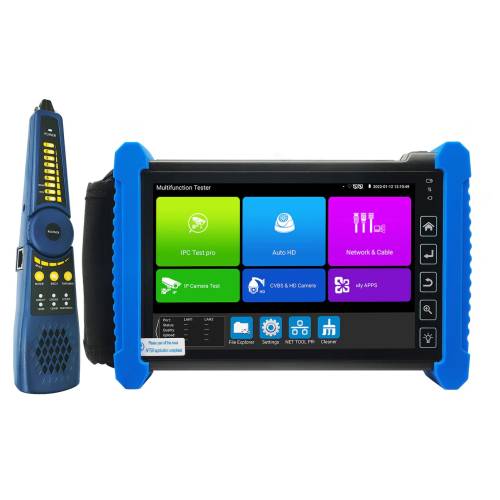 surveillance camera tester -Series 5
$ 433.00
---
The 4K camera tester is used for the installation and maintenance of IP network camera and coaxial HD surveillance camera and other security equipment. The tester uses a 5-inch 1920x1080P high-definition touch screen, so the operation becomes simple and fast; Support max 12MP IP camera and max 4K 8MP coaxial HD camera test; multiple professional tests are built-in APP, compatible with more than 90% of existing brand cameras. Suppot POE, WIFI, RJ45,TDR, DC12V power output etc. Use it to make your installation process simple and efficient.
SUPPORT CAMERA TYPE
Max 12MP 4K H.265/H.264 IP Camera test. IP Discovery/Quick OVIF/RTSP play/Client APK. Rapid Video:Auto view the video, create testing report. Support PoE, Hik and DH camera test tool, ovif test tool etc.
Coaxial HD camera test:
Max 8MP TVI/AHD/CVI/SDI camera test, 3840 x 2160P, support UTC control and call OSD menu.
CVBS camera test:
1* BNC input, NTSC/PAL (Auto adapt). PTZ control, RS485 control, Baud 600-115200bps, compatible with more than 30 protocols. such as PELCO-D/P etc.
AXIS IP cameras test:
Before testing, you need to install the APP "Axs test tool" suitable for AXIS testing through automatic update.
Test tool for Hik & DH
Support batch activate Hik & DH cameras and modify IP address, modify password etc & self-defined modify channel name; For Hik Test tool can quickly change H.264 and H.265 video, open wide dynamic mode. Factory restore, etc.
Support snapshot, video record & playback, coaxial PTZ & call OSD menu;
Rapid OVIF, Auto log in and display image,create testing report.
Compatible with more than 90% of existing brand cameras.
Built-in WIFI
Built-in wireless network WIFI function, 2.4GHz, speeds 150Mbps
Support connect and test wifi camera and display wireless camera image, support creation of WIFI hotspot.
The screen of the tester can be projected onto the Android cell phone in the same hotspot.