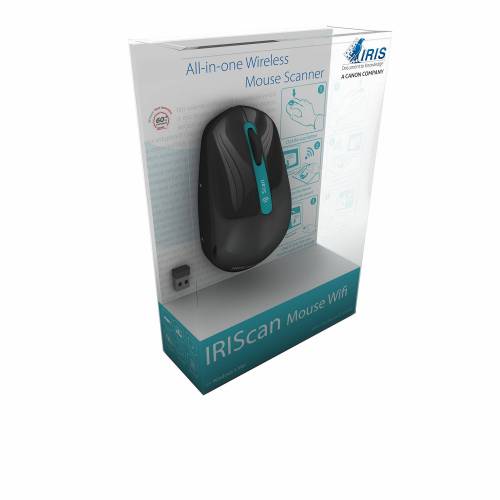 IRIScan Mouse - Scanner & Mouse
$ 100.00
---
IRIScan Mouse ISM1 - Scanner & Mouse
Product details:
IRIScan Mouse ISM1 – Scanner & Mouse.
Scanner & Mouse, All-in-one!
All-in-one full-featured scanner and mouse!
Scans anything Up to A4
Convert to PDF, Word, Excel
3 Months Free Evernote Premium!
Scanner specifications:
– Technology: Slam Scan
– Mouse sensor: Laser sensor (1200 dpi)
– Scan resolution: Up to 400 dpi
– USB: 2.0
– Coverage area: Up to A4
– Export applications: Microsoft® Office, Adobe® Photoshop®
– Save formats (applications): PDF / JPG / TIFF / BMP / PNG / XLS / DOC
– Buttons: 3 buttons (right-click, left-click, wheel-click) / 1wheel / 1scan button
Minimum computer requirements:
– Intel® Core™ Duo 1.2GHz or AMD Athlon™ 64 x 2, 1.7GHz
– Microsoft® Windows® 10, 8, 7, Vista® or XP
– 1GB RAM recommended
– At least 1GB of available hard disk space
– Graphics card: 128 MB NVIDIA® GeForce® 8400 GS or 128 MB ATI Radeon™ X1300 or 384 MB (shared) Intel® GMA X3000 or better
– USB port 2.0
– CD-ROM drive
Box content:
– IRIScan™ Mouse scanner
– Mouse transport bag
– Cleaning swab
– Software suite on CD-ROM
– Quick user guide
– IRISCompressor™ card
– Discount voucher for next purchase
– Brochure IRIScan™ Mouse
A scanner at your fingertips:
Everything you want from a scanner – 300 dpi resolution, small and portable, fast and fluid, high scanning format – in a beautiful, handy, and lightweight mouse!
Thanks to this all-in-one scanner and mouse, your scanner lies at your fingertips all day long! Just press the scan button, swipe in any direction on a paper document and watch text and images appear instantaneously on your computer screen.
When you're not scanning, it works as a regular mouse. It looks, feels, and performs exactly like the one you're already using, and it is not heavier. The best of both worlds!
Scan any document up to A4:
Don't worry about the size of the document you want to scan! From letters to book, newspaper, magazine, or even street map or house blueprints, the IRIScan Mouse scans any document up to A4! Just run the mouse all over the document, no matter the size, format, or content. Your documents are ready to be shared, archived, or even edited
Never retype text again:
After scanning your document, simply drag and drop it into Word, Excel, Outlook, or any text editing application. Your scans will be retyped instantly, ready to be edited! Even better, your documents can also be saved as fully searchable PDF files, which can also be compressed with the provided PDF compressor!
Capture and Share in a click:
Turn your documents into information you can share and access when you need it the most!
RIScan™ Mouse lets you quickly upload your scans to the Cloud (Evernote) so you can access them anytime, anywhere and on any portable device.
It also lets you share your files on Facebook, Twitter, or Flicker with just a click. Your mouse is now the gate to your social world!
More than 130 supported languages:
The embedded OCR technology is the best multi-lingual recognition software on the market. It recognizes over 130 languages including Asian languages and Arabic! Your scanned text can also be translated automatically thanks to the direct link to Google Translate available within the IRIScan™ Mouse native application.
Thanks to the IRIScan™ Mouse, the barrier of foreign languages is a thing of the past!