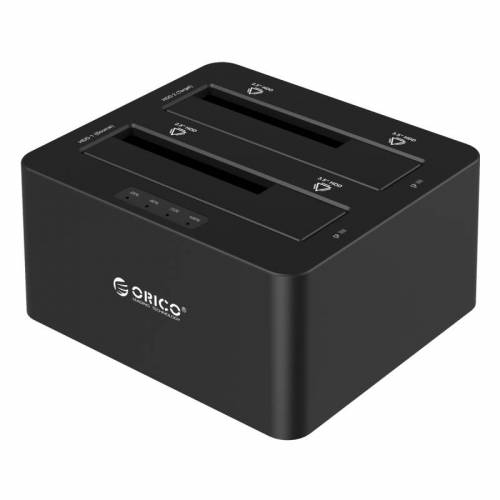 External Hard Drive Dock / Clone
$ 50.00
---
ORICO 2.5 & 3.5 inch SATA3.0 USB3.0 1 to 1 Clone External Hard Drive Dock
Size 2.5 & 3.5 inch HDD/SSD
Output Interface SuperSpeed USB3.0
Clone 1 to 1 Standalone Clone
HDD Interface SATA I,II,III
Power Supply 12V 4A Power Adapter
Data Cable 3.3Ft. USB3.0 Cord
Driver Not Required
Supported System Windows 8 / 7 / Vista / XP or Mac OS 9.1 and above.
Compatible with 2.5 & 3.5 inch SATAI, II, III interface HDD & SSD, Tool Free installation
It allows users to mount 2 drive disks, you can always replace the disk spaces at the same time
12V 4A power adapter provides stable power supply, which enables reliable connectivity between HDD and host computer
SuperSpeed USB3.0, spending less time
With USB3.0 SuperSpeed connectivity, a transfer speed of up to 5 Gbps, 10x greater than USB2.0 that allows users to enjoy amazing speed to transfer data in seconds,
backwards compatible with USB2.0 and 1.1, spending less time for syncing mass data, never fall behind, bringing SuperSpeed experience to you.
1 to 1 Clone function without host
There is a switch on the back, pull to activate clone function,
you are allowed to clone between disks without a host computer,
much easier to copy data from one drive disk to another.
Tool free installation, no drive needed
It can be external on the desktop, Plug and Play, support hot-swapping, no driver installation needed.
Connect 2 HDD & SDD for connecting at the same time, and also compatible with most major operating systems such as Windows, Mac, Linux, Unix and etc.