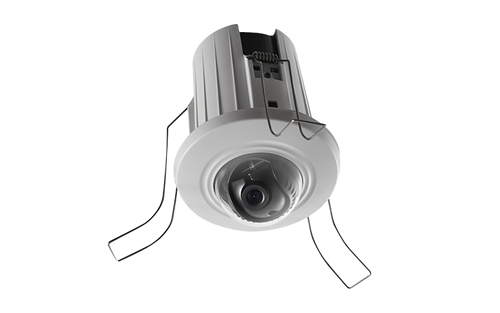 HIKViSION Fixed Dome Network camera 4mm
$ 50.00
$ 45.00
---
Introducing the Hikvision DS-2CD2E10F-4mm 1.3 MP CMOS Network Dome Camera, equipped with advanced features to enhance the security of your home or business. With its exceptional image quality and versatile lens options, this camera offers reliable surveillance solutions. Here's why you should consider investing in this top-of-the-line camera:
Superior Image Quality: The camera features a 1/3" progressive scan CMOS sensor, delivering sharp and clear images with a resolution of 1280x960. With a minimum illumination of 0.01 Lux and advanced digital noise reduction technology, it ensures optimal performance in various lighting conditions.

Versatile Lens Options: Choose the 4mm lens, with options for 2.8mm or 6mm lenses available. The 4mm lens provides a wide viewing angle of 73.1°, ensuring comprehensive coverage of your property. Whether you need to monitor a large area or focus on specific details, this camera offers the flexibility to meet your requirements.

Reliable Day/Night Surveillance: The camera features an electronic day/night function, automatically adjusting to different lighting conditions to ensure accurate color reproduction during the day and clear black-and-white images at night. With a wide dynamic range (WDR) and backlight compensation (BLC) capabilities, it provides balanced exposure in challenging lighting situations.

Efficient Video Compression: The camera supports H.264 and MJPEG video compression, optimizing bandwidth usage without compromising video quality. This ensures smooth and efficient streaming and storage of video footage, reducing storage costs and network bandwidth requirements.

Intelligent Alarm Triggers: Equipped with motion detection, tampering alarm, and other alarm triggers, this camera can promptly alert you to any suspicious activity or potential security breaches. Stay informed and take proactive measures to protect your property.

Network Compatibility and Storage: The camera supports various network protocols, including TCP/IP, HTTP, FTP, and ONVIF, ensuring seamless integration into your existing security infrastructure. Additionally, it features a built-in microSD/SDHC/SDXC slot, allowing for local storage of up to 128 GB of video footage.

Easy Installation and Operation: With its compact design and included mounting hardware, the camera can be easily installed in various indoor or outdoor environments. The intuitive user interface, accessible through client software or a web browser, enables convenient configuration and management of camera settings.

Enhanced Security Features: Benefit from advanced security features such as password protection, IP address filtering, and anonymous access. Safeguard your camera and ensure that only authorized personnel have access to your video feed.
By investing in the Hikvision DS-2CD2E10F-4mm 1.3 MP CMOS Network Dome Camera, you can elevate the security of your premises to new heights. Its advanced features, exceptional image quality, and reliable performance make it an excellent choice for homes, businesses, and other surveillance applications. Don't compromise on safety—choose the best with Hikvision.